This is a sponsored post written by me on behalf of Wendy's. All opinions are 100% mine.
As you can imagine, living in Texas gives me access to all kinds of BBQ eats so when I saw the advertisement for Wendy's BBQ Pulled Pork sandwich, I was like, ummmmm, okay.   Trying the BBQ pulled pork gave me a great excuse to get a Frosty, since I'm part of the key tag program anyways.

When my mom lived down in Spring, Texas, we tried a BBQ joint that held a title of "Voted Best BBQ".  We tried something similar to what Wendy's is offering and well, I can say that the title should be ripped from them and given to Wendy's.  Wendy's BBQ Pulled Pork was done right and after some research, it's no wonder why.  Wendy's took the time to travel around the country for some BBQ inspiration.  They made careful notes of how pitmasters cut their meat to applying the sauce.  The fact is, not everyone can cook BBQ so seeing a fast food restaurant do it, and do it well, deserves a big ol' Texas yeehaw!
Wondering about the pork itself?  Wendy's BBQ Pulled Pork Sandwich is made of tender, premium, lean pork shoulder, slow-smoked for hours with real hickory chips.  You get your choice of sweet, spicy, or smokey.  I wasn't expecting a choice of sauces, custom-crafted at that, when I went to order so I just blurted out spicy, knowing dang well I can't handle spicy stuff.  Good news though!   It had a kick to it but I wasn't sweating afterwards.  It really was just right.  Both me and my mom agree.  And do I need to tell you how great the BBQ Pulled Pork Cheese Fries were?  Wendy's already has hand-cut french fries but then you add cheese and pulled pork to that?!!  Crazy good y'all!!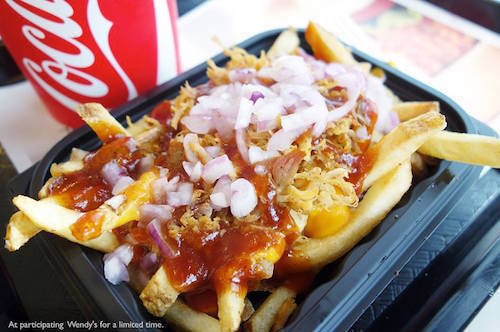 This is only available at Wendy's for a limited time so try while you can!  Visit the Wendy's Website for more info.  I'm pretty sure you won't be disappointed in this at all!!!  I'm pretty particular about food, especially when it comes to BBQ, and me and my mom both give it a thumbs up and will totally eat it again.